Hi there girls,
I'm back again with this sweety
V713
of Vilda stamps.
Deze keer dit schatje op mijn DT card voor Vilda stamps welke je hier kunt vinden.
I colored her, for now it is a girl, with copics and put her on embroidery lace and behind that is a lovely floral oval.
Ik heb de baby op een mooi embrodery kant gemaakt en toen op de mooie floral ovaal van spellbinders gezet.
I draw some little dots on the flower with a white gel pen.
Uiteraard heb ik haar ingekleurd met copics en met een witte gel pen heb ik hele kleine stipjes gezet op de bloemblaadjes.
The oval edges are inkt up with pan-pastel.
De randjes van het ovaal achter het kant heb ik bewerkt met pan-pastel.
The paper I used is the lovely paper of Maja Design and some linen structered cardstock.
Het papier wat ik gebruikt heb is van Maja Design en het cardstock is het mooie linnen structuur CS.
The first layer is an embossed one and that became on top of the Maja paper .
The edges of the pink ribbon flowers are done with some very fine glitter and a pearl in the center.
De eerste laag heb ik geembost en deze bovenop het Maja DP geplakt.
Detail of the ribbon flower with the glitter edges.
En een detail foto van de mooie bloem met aan de randjes heel fijn glitter.
Add some pearl swirls and some glass stems and the front of your card is done!
Plak wat swirl pareltjes en glas stems en je hebt een heel mooi geheel.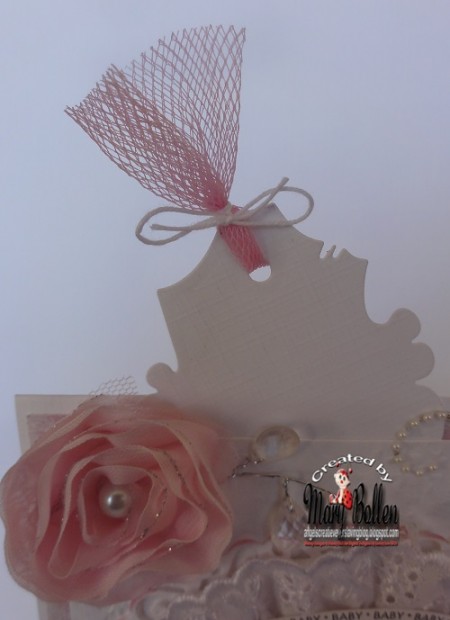 The tag is placed between two layers and become a hidden tag placed like this.
De tag is tussen 2 lagen in gemaakt, dus de bovenrand is niet vast geplakt en daardoor creëer je een soort verstopte tag.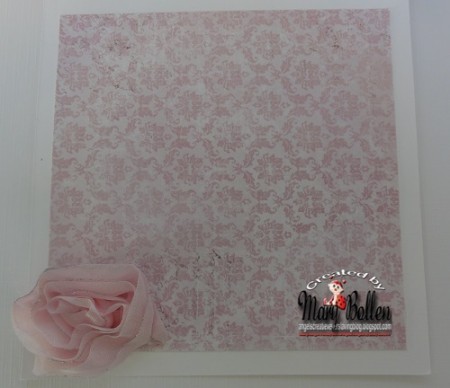 And this is the inside of the card.
En dit is de binnenkant van de kaart.
I hope you like it and I will try to make something nice for the next post,
greetings and a creative hug from te Netherlands,
Mary